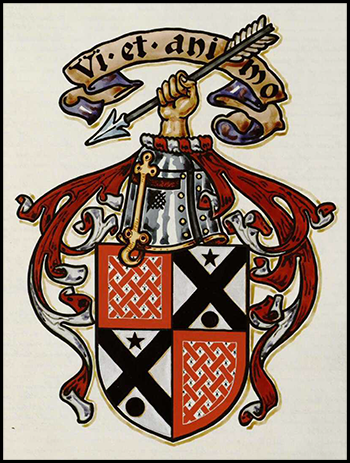 Major General, Sir Andrew Jameson McCulloch, was born Andrew James Jameson

- in St. George's District, Edinburgh, Scotland, July 14,1876. He died in Castle Douglas, Scotland, April 19, 1960, KBE, 1937; CB 1934; DSO 1918; DCM 1901; DL; late HLI, 7th Dragoon Guards, and 14th Hussars.[1] He was the 13th Lord Ardwall, inheriting the title from his mother's side of the family, and starting in 1892, was the first of this Jameson family to assume the surname McCulloch, thereby fulfilling the obligations of peerage.[2]
Eldest son of Andrew Jameson, Lord Ardwall, Scottish Judge, and Lady Ardwall of Ardwall, married Esme Valentine, daughter of Colin Mackenzie, HEICS, of Portmore, Peeblesshire, and Catherine Wauchope. They had three sons (and one killed in action). He was educated at Edinburgh Academy, St Andrews University; New College, Oxford (BA). Studied Law Inner Temple, 1898-1899. He was a Barrister-at-law, Inner Temple; served in the Military in South Africa, 1900-1902, including Paardeberg, Dreifontein, Johannesburg, Diamond Hill, Wittebergen (DCM, dispatches); passed Staff College, Camberley, 1910; served European War, 1914-1918 (DSO with two bars, Legion of Honour, dispatches thrice, wounded thrice; commanded 64th Infantry Brigade when it took Grand-court, France, August 1918; commanded 62nd Infantry Brigade, 1919; Chief Instructor, Staff College, Quetta, 1919-1923; Brigadier 2nd Infantry Brigade, Aldershot, 1926-1930; Comdt, Senior Officers' School, Sheerness, 1930-1933; ADC to the King, 1931-1933; Temporary Command of Troops in Malta, 1935-1936; Commander 52nd (Lowland) Division TA, 1934-1935 and 1936-1938; Colonel of Highland Light Infantry, 1936-1946; retired pay, 1938; Inspector of Oil Protection, 1941-1944.[1] Was a member of the: Naval and Military; New (Edinburgh) club.
Andrew and his wife Esme, lived and raised their children at Adrwall House, just south of Gatehouse of Fleet, Scotland, where they raised their children. After the war they moved to Gaitgil House, just east of Gatehouse, still in Kirkcudbrightshire, Scotland. He died April 19, 1960, in Castle Douglas, and is burried in Anworth, near Ardwall, in he Old Kirkyard Cemetery.
On June 2, 1899, Andrew Jameson McCulloch, was granted - by the Lord Lyon, King of Arms, all rights to use the coat of arms depicted here on the upper right of this page, including it's motto "Vi et animo" - Strength with Courage.
---
Y-DNA test, associated with this family, #: None Known
---