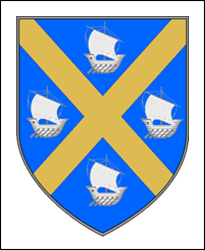 David Jameson

- was born in St. Anne's Parish, Essex County, Virginia, probably in 1732. He was the son of James and Margaret (Jennings) Jameson, tobacco plantation owners. He was the grandson of David and Mary Jameson, from Scotland, likely a prisoner of war, deported from England in the latter 1600s. David married Mildred Smith, daughter of Edmund and Agnes (Sclatter) Smith, about 1751, in Virginia. They had no known children.
A graduate of Princeton College, Jameson became a prominent merchant in Yorktown involved in shipping tobacco, importing goods, and the buying and selling of slaves. He was an inventor who developed the first instrument to measure dew and rainfall, Jameson was named treasurer of the Society for the Advancement of Useful Knowledge, an organization he helped organize with John Clayton and John Page in Williamsburg. He was elected to represent the district of Elizabeth City, Warwick, and York counties in Virginia, to the state senate, in 1776, 1781, 1782, & 1783, but instead accepted an appointment to the Council of State and was sworn in on December 12, 1776. Jameson served on the Council for over five years with an increased role as lieutenant governor during the formidable period leading up to the capitulation of Lord Cornwallis after the siege of Yorktown. During Governor Thomas Nelson's absence to command the Virginia militia at Yorktown, Jameson handled the essential duties of the office including supplying the French and American armies with equipment and supplies for the coming battle. Upon Nelson's resignation on November 22, 1781, Jameson served briefly as acting governor until Benjamin Harrison's appointment on November 30, 1781. Jameson continued on the Council until his resignation on March 30. 1782. Jameson returned to the state senate for the October to December 1782 session and the subsequent session in 1783. He was also served as justice of the peace and coroner for York County in 1782 & 1783.[1]
Mildred Smith Jameson died December 10, 1775. David's exact date of death isn't known, but it was likely sometime in 1793, His will was probated on July 22, 1793.
The arms depicted here, in the upper right hand corner of this page, are found on (the left side) of the tombstone of Mildred Smith, wife of David Jameson in Moore House Cemetery - Yorktown, York County Virginia. They are next to (on the right) arms known to be her family's arms. These arms (his) are difficult to make out, but appear to be consistent with and a good match to the description of arms attributed to this David Jameson in the 1898 book, "Virginia Heraldica."[2]
---
Y-DNA test, associated with this family, #: 415055 (cd) & # 361371 (cd)
---