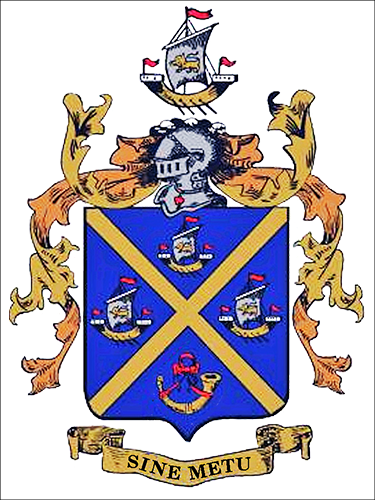 Rev. John Jameson

- was born July 17, 1816, in Dublin, Ireland, the eldest son of James and Elizabeth Sophia (Woolsey) Jameson. He was the grandson of John and Margaret (Haig) Jameson of Scotland. John married Isabell Ann Jones in January of 1845. She was the daughter of Harry David and Charlotte (Hornsby) Jones, of England.
He was educated at Queen's College, Oxford, where he received both his BA (1832) and MA (1837) and then remained in England, where he was a Clerk of Holy Orders, before returning to Ireland where he resided at the Jameson Estate in Winfield, County Galway, where he died August 15 1872.
John and Isabella had five children: Charlotte Elizabeth, James Francis, Henry William, Edith Sophia,and Arthur Bellingham, all of whom married and had children.
The oldest use of the arms as displayed here, in the upper right of this page, were in Ireland and were granted to Reverend John Jameson (1816-1872). They were subsequently also officially granted for use, to his son James Francis Jameson and his grandson Maurice Eyre Francis Bellingham Jameson.
---
Y-DNA test, associated with this family, #: 311680 (cd) and 496098 (cd)
---
Footnotes/References
---
Bibliography/Resources: