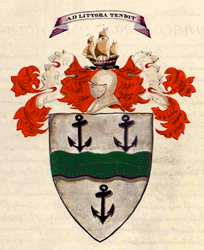 Michael James Jamieson

- Michael James Jamieson was born July 2, 1837 in the Parish of Barony, in Glasgow, Lankarkshire, Scotland. He was the son of James and Janet (Jarvie) Jamieson, merchant of Glasgow, Scotland. He was the grandson of Michael and Barbara (Harvey [Harvie]) Jamieson Cooper of Port Glasgow. Michael married Sophia Mary Briggs in April 28, 1864. in Edinburgh, Scotland. She was born March 27, 1843, in Paris, France, the daughter of David and Sophia Maria Briggs.
Michael and Sophia had four children, James Aubrey, Evelyn Anna Morrieson, Leonie Sophie Brook and Elliot Michael, all born in Scotland. Michael and his family emigrated to South Africa, where he died March 18, 1882.
On April 25, 1864, Michael James Jamieson, was granted - by the Lord Lyon, King of Arms, all rights to use the coat of arms depicted here on the upper right of this page, including it's motto "Ad Littora Tendit" - It makes for the shore
---
Y-DNA test, associated with this family, #: None Known
---
Footnotes/References
---
Bibliography/Resources: