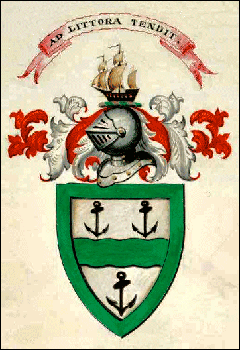 Robert Jarvie Jamieson

- Robert Jarvies Jamieson was born September 15, 1844 in the Parish of Barony, in Glasgow, Lankarkshire, Scotland. He was the son of James and Jane (Jarvie) Jamieson, merchant of Glasgow, Scotland. He was the grandson of Michael and Barbara (Harvey [Harvie]) Jamieson, cooper of Port Glasgow. Robert married Elizabeth Richardson on April 28, 1869. Abbey Paisley, Renfrew, Scotland. She was born September 22, 1848, in Barony, Lanark, Scotland, the daughter of Thomas and Marianne (Young) Richardson.
Robert and Elizabeth had two children, Marianne Young and Jane Edith. They lived in Edinburgh, where Robert died February 7, 1924.
On March; 25, 1869, Robert Jarvie Jamieson, was granted - by the Lord Lyon, King of Arms, all rights to use the coat of arms depicted here on the upper right of this page, including it's motto "Ad Littora Tendit" - It makes for the shore
---
Y-DNA test, associated with this family, #: None Known
---
Footnotes/References
---
Bibliography/Resources: